What will your career look like in 1 year? in 10 years?
We often use the phrase career change coach "own your career." This doesn't mean you have all the answers. This means you want to take an active role in shaping the direction of your career. Top executives at every major company work with development specialists and mentors throughout their career. They take an active role rather than just letting things happen.
Take control of your career, use a specialist to help you succeed by contacting us today for a no-cost initial consultation.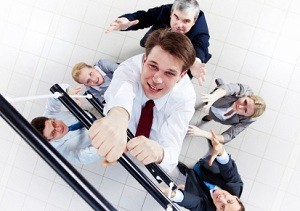 Our specialty is career development and career success. Don't let chance or someone else shape your career.

So how can we help you?
It's time to maximize your personal and professional potential! This means being in charge of your career's direction by doing the following:
Achieve a long-term career vision.
Address and overcome limiting beliefs.
Develop effective negotiation skills.
Identify skill and/or experience gaps and creative solutions for bridging those gaps.
Learn communication strategies for productive, positive relationships with your peers, manager and direct reports.
Identify what might be holding you back from moving forward in your career.
Who Benefits from Career Development Coaching?
Here are examples of career development and career advancement requests from our current and past clients:
Can you help me get a promotion?
How do I get noticed for the good work I'm doing?
What's the secret to becoming a more effective communicator?
How do I make my team more efficient?
What's the best way to handle a challenging co-worker?
Career Development Services
The question is, "how do we make you happier with a better career?" and the answer can take on many shapes. Here are many of the common career advancement services we deliver:
30, 60, 90-day plan
Position yourself for success in your new job by adjusting to change and delivering what is expected of you all while building the foundation for long-term career progression.
Near-Term Career Goals
Immediate opportunities abound in most jobs and, very often, you are in a strong position to capitalize… you just need to connect the dots and plan your move.
Negotiation
Embrace the broader purpose of negotiation, develop a comfort level with it and improve your skills and strategies to change the status quo. Negotiation skills are needed regularly in dealing with and motivating co-workers, other departments, your boss, vendors, etc.
Limiting Beliefs
Address and come to terms with conscious or subconscious obstacles that are holding you back.
Promotion
Prepare for career advancement by understanding all the dynamics of your situation and developing an effective strategy to make the move.
Skill Assessment and Development
Investigate the hard and soft skills you need today, or will need soon, and how to acquire them.
Workplace Communication
Assessment of communication skills and how to become better and more effective, including handling conflict and difficult situations.
Mentors
Determine your goals for working with individuals who can help guide your career and then plan how to identify, ask and work with mentors.
Where will you be in 1 year? 5 years? 10 years? Let us help you envision your future and start taking the steps to make it a reality. Session prices start at $165 per session. Get your free 1/2 hour consultation with a specialist by calling 512-850-4425 or by completing the form on the right.