Whether you know it or not, you have a brand image. Just like Google or Coca-Cola or Nike, you are constantly broadcasting who you are. It's what you say, what you wear, how you act and how you interact with others.
As you develop your career, your brand becomes more and more important and influential. We help you establish and build your brand and make sure you broadcast in the right channels. You may be shocked how many doors open for you with the right brand image! The right brand can:
Get you the recognition you deserve from your co-workers.
Help you transition to a new career or new job.
Put you on a short-list for a promotion or new role.
Establish you as an expert others recommend and ask for advice.
First, your brand needs to be defined. Second, it needs to be polished and, finally, delivered across a number of channels. The following 5 gears represent the primary channels and methods for broadcasting your brand. When you are established across all of these channels then all 5 gears will turn and so will your Brand gear.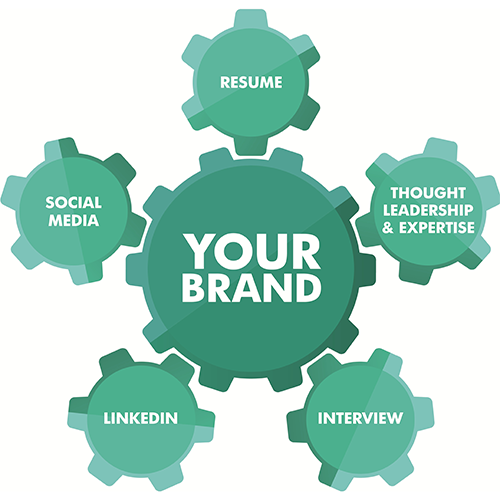 Leverage your experience, expertise and accomplishments to position you for a role/career and help you stand out from others through your resume, cover letter, emails, etc.
Thought Leadership & Expertise
Identify ways for you to demonstrate your expertise and gain exposure and credibility.
Crafting & refining your story, and practicing delivery so you can demonstrate your unique selling points in a variety of interview formats.
Communicating your story and demonstrating your notable achievements on the most important professional social network.
Assessing your comfort with social media platforms such as Instagram, Tumblr, YouTube, Facebook and Twitter and determining their strategic importance to tell your story, share your personality and establish your expertise.
Contact us today and let's looks at how your brand can help you transition to the next step in your career.