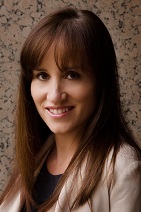 Stephanie Heuer
Stephanie is passionate about helping individuals discover their most successful and fulfilling careers. She utilizes her expansive marketing, communications, and success management background to coach individuals through their career journeys and to help them establish solid goals and strategies for success. She's learned from experience that choosing the comfortable path isn't always the right path and her mission is to help others identify their strengths, limits, and possibilities and to find the courage to forge their own unique career paths.
Stephanie is a Co-Active Coach with 15 years of professional experience. She earned a Bachelor's degree in Advertising from University of Illinois and later completed the Coaches Training Program at CTI. Her experience includes marketing, advertising, sales, social media, success management, SaaS, and coaching. After spending most of her career working with major brands and corporations on their marketing strategies, Stephanie discovered her passion for helping individuals develop their own personal brands and career strategies. In addition to leading personal branding workshops, Stephanie has coached clients in all types of careers including business executives, lawyers, realtors, and new entrepreneurs.
Co-Active Coach Training with Coaches Training Institute
15 years of corporate experience working in marketing, advertising and social media for leading corporations including Microsoft, Scripps Networks, and Sprinklr
Four years of experience coaching individuals to achieve their career, business, and personal goals
Featured presenter on Personal Branding
SafePlace volunteer leading workshops to help survivors develop their Confidence and Assertiveness skills
Career Coach at Realty Roundup and Texas Conference for Women
Experience as an expat living and working in Sydney, Australia
Story
Stephanie Heuer started her career in Illinois where she worked at Caterpillar Inc. while earning her bachelor's degree in Advertising Communications. Before long, she moved to Atlanta, Georgia where she built her experience doing media planning for two different advertising agencies and later became an Account Executive for Food Network.
Stephanie Could No Longer Continue
Stephanie worked hard for her clients and was a natural at devising successful advertising campaigns. The future looked bright until one day, while she sat in her car, she felt a heavy weight come down on her. It was at this moment that she realized that she was merely going through the motions and had, somehow, stopped loving life. Her passion was gone and she knew that she could no longer continue on this path she had so carefully planned for herself.
Taking A Big Leap
A few months later Stephanie booked a one-way flight to Australia, quit her job, got rid of her condo, and put all of her belongings into storage. Up until then, she had never even traveled outside of the U.S., and here she was moving as far across the world as possible to a land where she knew no one. It wasn't easy convincing family and friends this was the right choice but Stephanie wanted to see where life took her, to be inspired and to find her passions for this world again. Eventually, her loved ones were convinced, in fact, many considered Stephanie brave for taking such a leap!
Schedule Stephanie
Book a session or an initial consultant with me today. Looking forward to meeting you!
Expertise
Career Strategy & Planning
Sales & Business Development
Interview Preparation & Closing
Expat Planning & Transitioning
Worth The Risk
Stephanie's two year journey overseas wasn't always easy. She was faced with deadly creatures, crashing waves and strong currents, lonely caves, and even shifting glaciers that challenged both her endurance and stability. But the beautiful, life changing experiences she encountered were worth the risk and more! Stephanie found new strengths within and learned that being confidently vulnerable was the only way to truly experience the joys of life. Most importantly, she learned to love and respect herself enough to listen to her own heart, even when she feared no one else would.
Helping Others Discover Their Passion
Stephanie came back from Australia a very different person than the one who left, wholeheartedly embracing her love for life regardless of the situation. During her journey, she came across coaching and soon fell in love with this extraordinary process. The insights and tools she learned from her own coach played a crucial role in the personal development and success that she achieved.
Stephanie is the founder of Brave Paths Career Coaching and has been a career coach since 2012 after completing Co-Active Coach Training with CTI. She has extensive experience working in sales, marketing and customer success in the areas of SaaS, Digital Advertising, eCommerce, and Social Media. She has worked for large enterprises and high-tech companies including Microsoft, Sprinklr, and Demand Media. Stephanie enjoys working with executives, budding leaders, entrepreneurs and aspiring individuals to discover passion in their lives, whether it be a career transition, a new business venture, or a once in a lifetime sabbatical.
Let Wolfgang Career Coaching help you move forward in your career!
Contact us today if you'd like to work with Stephanie.
We work nationwide and draw quite a few clients from Texas cities including Dallas, Houston, San Antonio and Fort Worth.