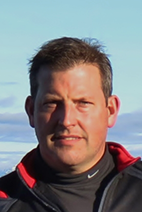 Matt Guiver
Matt believes taking a momentary step back is crucial to finding clarity and direction in our age of information overload. He also recognises his clients are the experts in their thinking, but they sometimes need help navigating through it. This step back provides a strategic snapshot of where his clients stand on their thinking, current position and future aspirations. His aim is to ultimately help his clients find their true bearing so that they can confidently make the right decisions and take the appropriate actions moving forwards.
Matt Guiver is a certified performance coach. His background is drawn from two decades of international management experience working across a broad spectrum of clients, industries, and sectors in over 35 countries. This allows him to provide a broad but focused coaching service that is customized to each client's particular scenario. His 1-to-1 coaching and workshops are innovative, interactive and enjoyable, both enlightening and engaging clients to develop action plans to tackle complex strategic, leadership and management challenges that provide proven results and peace of mind as they find balance, strength and motivation to move forward on their natural path.
Certified Performance Coach
Board member – VP Talent Development: Association of Talent Development San Antonio Chapter
Mentor at Geekdom, San Antonio, Texas
Leadership trained: Officer at the Royal Military Academy Sandhurst
Expedition Leader: Grand Canyon, Belize Jungle, Kluane NP, Island Peak – Everest NP
BA Hons in Industrial Design – Loughborough University UK
Masters Certificate in Strategic Management – Hull University UK
Work with entrepreneurs, small/medium size businesses and C-suite executives
Global experience with extensive coaching experience in USA and Europe
Creator of 'PictureSpark' and 'GPS your Business Workshop' series.
1-to-1 coaching, Workshops and Training materials are all customized as per client's requirements
Jumpstone uses 5 Keystone approach: Objectives, Leadership, Innovation, Resonance, Perspective
Career includes: Global Operations Manager, International Relations Manager, Expedition Leader, Coach, Speaker, Trainer, Design Engineer, Entrepreneur, Education Consultant, Inventor, Industrial Design Graduate, Army Officer
Story
Matt Guiver didn't plan his career – it found him as he searched time and again to find what inspired and motivated him. As a result, he reached a crossroads too many times in life to mention, often feeling lost not knowing which direction to take next or where to turn for help. He longed for a holistic approach from coaches and career advisors who would consider personal and business experience as well as one's aspirations in life but he couldn't ever find the right person to help. Therefore, he spent his several years in higher education getting fully qualified as well as learning and applying the theory to his years of practical experience. After a number of years honing his coaching technique, he devised his own coaching model (E3) and approach to help clients find what he had originally wanted – a true bearing – hence emerging as a 'Business GPS Coach'!
Matt's Coaching Specialty – Finding your True Bearing!
Matt helps his clients look within their business, teams, talents and skills to conceptualize ways to overcome complex challenges to improve, develop and create opportunities with a clear plan of action. His unique PictureSpark technique in combination with his E3 coaching approach allows clients to gain a broad strategic overview of their situation by 'Exploring their thinking, Examining their challenges and Executing on their plan'. This approach crystallizes their thinking, providing the necessary clarity and understanding to take appropriate action to achieve their true business bearing.
Schedule Matt
Book a session or an initial consultant with me today. Looking forward to meeting you!
Expertise
Leadership and Team Development
Branding and Company Culture
Customized Interactive Workshops
Intercultural Understanding
Design Thinking and Innovation
Matt's Ideal Client
Any individual or business who is serious about committing to and investing in taking appropriate action to reach their goals. By investing in an expert strategic soundboard and performance coach who can help tackle and understand their own unique thinking and complex challenges – they can finally clear the mental fog and find their true bearing in a minimum of time to reach their goals and realize their business and/or personal aspirations.
Why Coaching is his True Vocation
After travelling, working and living in over 50 countries, trying his hand at various management roles, leading various expeditions and encountering many diverse cultures, Matt felt compelled to combine his true vocation for coaching with his love for innovation, experience in leadership and management along with his fascination in diverse cultures to truly help and inspire individuals and businesses excel and flourish.
He recognizes time is precious and most of us want to make the most of the time we've been given to live – 'really live' – and enjoy the journey we're on. However, we're often confused how to achieve this and either end up lost, confused or even give up. Matt discovered time and again its crucial we take a momentary step back to find clarity and direction in our age of information overload to find the necessary clarity and understanding to our thinking. He has since learnt a lot about the science of the brain and the crucial need for our pre-frontal cortex to disengage to properly gain insight and perspective to our many challenges!
He knew he'd found his true vocation when he found how to combine his true talents in innovation, communication and cultural understanding along with his passion for working with people from all walks of life and businesses from different corners of the globe. He can't think of anything better than the satisfaction of knowing when clients have found their true business or life bearing and know they are on track living with purpose!
Matt provides 1-to-1 Coaching, Workshops, Training, Facilitation and Speaking
Let Wolfgang Career Coaching help you move forward in your career!
Contact us today if you'd like to work with Matt.
We work nationwide and draw quite a few clients from Texas cities including Dallas, Houston, San Antonio and Fort Worth.