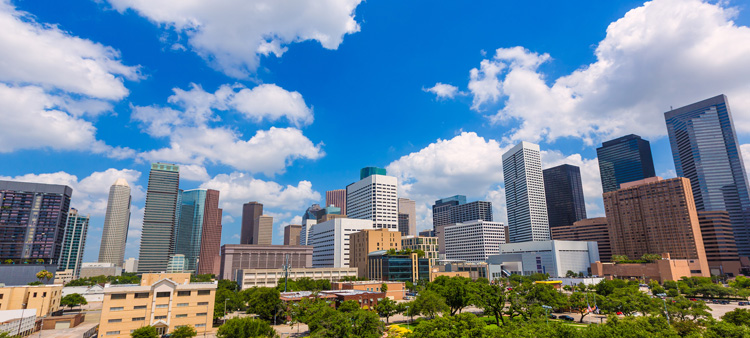 If you are thinking about a career change, Houston, Texas is a great place to be.  Houston is one of the top cities for manufacturing, biotechnology and software development.  Of course, Houston is world-renowned in the energy industry, particularly oil and gas.  Hundreds of thousands of jobs have been created in Houston over the past few years and there are plenty of opportunities to find a job or career that truly fulfills you.
With so many different careers at your fingertips, it makes sense to find out which are best for you.  That is, what types of roles align with your values and personality?  What jobs utilize your skills and match your interests?  Wolfgang Career Coaching can help you find a career you love!  We can help you:
Define career goals

Develop and implement an action plan to achieve those goals

Understand how to assess career opportunities

Position your skills and experience for a specific career
Get Started
Invest in yourself. You deserve a rewarding career!
It's time to dream big. Find out how a career coach can help change your life.
Get Started
Is Career Coaching Right For You?
We have worked with 2,500+ clients and specialize in working with clients across the country with career development and career transitions. Career coaching may be right for you if you:
Are no longer happy with your job

Feel your job/employer doesn't align with who you are

Want more from your career but aren't sure what

Are interested in finding out if there is a better job/career for you
With all of this opportunity comes a large pool of talent throughout the Houston metropolitan area.  Universities introduce thousands of well-educated professionals to the workforce each year.  You'll also find a large base of engineers, healthcare workers, and programmers.  These are all reasons why it's important to make the most of your opportunities!
About Wolfgang Career Coaching
Wolfgang Career Coaching can get you ready for a job search in a short amount of time.  Hit the ground running with a professionally written resume, interview preparation and, most importantly, a solid strategy for finding a new job.
Best of all, your investment in career coaching is often quickly paid back in how much faster you find your next job and the increase in salary we are able to help you achieve.  
One of the smartest investments you can make is in yourself! – Amy Wolfgang, CEO Wolfgang Career Coaching
Career Coaching
Free
1/2 Hour Consultation
Contact Us: (512) 850-4425
Testimonials
I got a call Tuesday morning after the interview from their recruiter telling me they wanted to move forward with an offer! Not only that but there were six teams who wanted me to join them. Thanks so much for your help in preparing me.
This fresh perspective and coaching is exactly what I needed to get through multiple rounds of interviews with a company and get the job I wanted. If any of this is what you are experiencing, I highly recommend Stephanie.
I was able to catch myself and implement the things we talked about in our meeting. I met with 5 managers, and 2 technical employees, which should have been really nerve wracking, but I passed with flying colors.
As a self-employed Realtor, I recently found myself experiencing another round of growing pains in my business. Amy was the perfect choice for this type of business coaching.
While the price tag may seem high, it is very worth it. These are the skills that (unfortunately) universities do not teach you.
The interview went great, and I never thought I'd be able to be so calm in an interview.
First, I would have to stress how effective her approach was for me. Amy is very high energy and she cares. I could tell from my initial meeting that this was someone that genuinely wanted to help me and she was going to put a good deal of energy into the process. I was inspired as a result and ready to get to work.
I feel like I'm finally getting to live out my passions.
Just wanted you to know... I just got a verbal from Microsoft!!! Thanks so much for your guidance. This is a tremendous outcome and an affirmation of my investment in you.
I was going about my job search in the wrong way prior to working with Stephanie, and after just a few sessions, I was able to find an incredible job opportunity with a Fortune 500 company.
I've had a great experience working with Michelle Poole, who was one of the people instrumental in helping me feel more comfortable moving to Austin, TX.
Scott's expert coaching was positive and provided me with a plan that I was able to execute to obtain the results I was seeking.
I have been working as a Product Manager for the past two months! I just wanted to thank you, and let you know that I'm still cherishing our time together.
Thank you SO much for your invaluable assistance with my resume and LinkedIn profile. I couldn't have done it without you!
I also need to say that I had experienced two other career coaching firms prior to meeting Amy. Comparatively speaking, I received terrific value for the money and time I invested with WCC.
In short: I look forward to continue working with Michelle and others at Wolfgang Career Coaching as my career adventures continue.
I just accepted an offer and I know that without all the exception, informative guidance I got from Scott I would still be searching for a job. He was extremely motivating and resourceful!!
I would like to finish by mentioning that all of out sessions were done over the phone and web meeting, and that worked very well. So, for those who are remote to Austin: no worries. You will have the same service level than if you would be face to face.
Melissa helped me build the confidence I needed to interview well, she helped me build a list of my most desired companies to work for, and she gave me new networking techniques that got me multiple interviews. I ultimately got a position at one of my top companies, where I'm very challenged and much happier.
I honestly could not have been offered this career opportunity without the assistance of Wolfgang Career Coaching.
I agree with some reviewers that it's expensive but I see it as an investment in yourself. I've read several job-hunting self-help books and done online self-assessments, however, sometimes you need an outsider to talk to you and give honest feedback.
The LinkedIn counseling was a pleasant, eye-opening experience that I hope gets me noticed for the right jobs. Thanks Scott!
I received the LinkedIn consultation and immediately saw positive results.
Wolfgang career coaching has been extremely helpful.
A completely eye-opening experience!
I was coached by Scott Kukowski. He was fantastic.
I loved working with Michelle Poole at Wolfgang!
I soared through 2 rounds of interviews for the position I was seeking and not only got the job but got a higher salary than I ever though possible. CANNOT PRAISE WOLFGANG ENOUGH!!! THANK YOU!!!
I now work for a company that I'm very proud to be associated with and couldn't thank Melissa more for all her help.
I have to say that Scott provides invaluable recommendations and tips. I learned so much during the last 3 weeks!!
With very little notice, Melissa agreed to meet me after business hours on a Friday evening in order to help me prepare for the interview. A week later, I was hired for the position of my dreams. I cannot thank Melissa enough or emphasize how grateful I am to Wolfgang Career Counseling. I feel certain that I would not have performed as well without their expertise.
Scott is a very friendly and funny person, but he is also really great at being able to provide you tons of useful material in a short session. I would certainly recommend Wolfgang career coaching for those looking to ace their next interview regardless of what industry you are at!
10 out of 10!!![/testimonial] Please consider using Wolfgang Career Coaching. You will learn so much, and it will change your odds of getting the right kind of professional exposure.
Michelle at Wolfgang career coaching was deeply committed to helping me and was instrumental in the shifts that started to happen in my life. I am very thankful for the opportunity.
Do yourself a favor in the new year and hire a career coach.
Scott Kukowski is a career coaching rockstar!
Thanks to my work with Scott, I know exactly what I want to do and how to get there, and I also know how to look for work as I move through my process.
I found him to be very receptive to a myriad of questions I had both in person and via email between sessions.
I followed Amy's advice every step of the way, even though some of it was outside of my comfort zone. Not only did I get hired for the new role, I was able to increase my pay rate by 40%! THANK YOU, AMY!
Without Scott I'd still be sitting at my desk wondering what I should do. Highly recommend!
I started with Amy Wolfgang in the midst of a career crisis at an employer that was sucking the life out of me. Her positivity, willingness to question my assumptions, and true pleasure in helping people helped me overcome a tough time in my life, while learning a lot about myself.
It was definitely money well spent and I'm so happy with the outcome. I'm now in a new position, with the same employer, but in a role that fits what I enjoy doing and my expertise. I was lucky enough that it came with a pay raise to boot!
This was just what I needed to elevate my career to the next level.
I absolutely loved working with Stephanie as my career coach. I was so impressed with how thorough the process was and how the program was tailored to my specific needs as a client..
Scott, did a wonderful job helping me improve my resume and LinkedIn. Please take his advice because it will help you!
Immediately after I finalized my resume and finished tweaking my LinkedIn profile, I, literally, received two legitimate messages from recruiters.
I interviewed with four people over about four hours and the very first request (predictably) was "tell me about yourself". I felt very prepared for that and I think was able to answer just as we had practiced.
I started getting hits from recruiters as soon as I updated my LinkedIn profile. And being able to send them my updated resume made the hiring process so much better. I have had to turn down 2 other jobs since accepting the one I start next Monday.
You literally helped me transform into a highly marketable candidate, whereas before I wasn't getting any bites from recruiters and wasted a lot of time.
I want to say thank you so much for your help in guiding me to the type of jobs that would be in my wheelhouse.

Looking for a new job? Accelerate your job search with a powerful professional brand, solid interview skills and the right action plan.

Don't let your resume hold you back. With the right resume you'll stand out to hiring managers.

Thinking about a new career? Uncover your passion and find a career that best fits YOU.

Advance your career with a promotion or create your dream job. We help you define your career goals and create a plan to achieve them.