Provide a smooth transition for your employees
Organizational structure is a strategic priority for businesses in today's environment. New technology, shifts in business strategy, competitive dynamics, international markets, new government regulations… these are just a few reasons why your company needs to maintain a nimble organization.
When these factors force you to make sudden changes to your organization, you want a smooth transition for those exiting and those staying.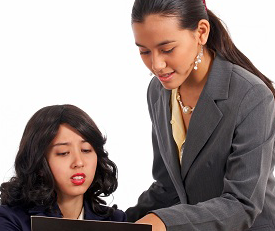 Your situation is unique and your organization is unique. That's why we offer flexible, customized packages that include personalized one-on-one coaching along with group and manager training.

So how can we help you?
Help your employees transition to a new career.
It isn't easy to change. It's hard on employees whether they stay or not. It's just as difficult for managers and executives to make decisions on who stays and who does not. Choosing the right transition and outplacement services sends a number of positive messages:
You care for your employees as people and want to see them succeed.
Your organization still offers a great place to work.
You support & respect your employees and don't take these decisions lightly.
Your former employees will have very different career needs. You can help them by finding an outplacement partner that covers the different stages equally well and works with all levels and backgrounds. They'll appreciate the breadth of career services and the ability to choose between:
professionally written resume
job search strategy
discovering new careers
starting a business
exploration through career assessments
practice interviewing
Should you take the next step?
Read the questions below to determine if now is the right time to speak with about transition and outplacement services:
Do you see signs that a reduction-in-force will become necessary?
Is your organization in the process of significant internal changes?
Are you about to downsize your workforce?
Do you want to prepare a career assistance package in case layoffs become necessary?
Do you need additional hands-on-deck to provide transition services?
Put your workforce in good hands. Contact us today at 512-850-4425 or complete our contact form on the right.