All of our services have Goal Setting as the backbone – everything we do has a clear goal in mind. In a general way, we are your accountability partners helping you develop, set and achieve your career goals. Our seasoned coaches help you clearly define your career aspirations and the steps to turn your vision into reality.
For other clients, goal setting means we seek to understand the "pain" you are experiencing and help shape near-term, specific and attainable goals to alleviate that pain. The Goal Setting gear is driven by the 3 gears described below. Once they are turning in unison, you will be successfully developing the career you always wanted.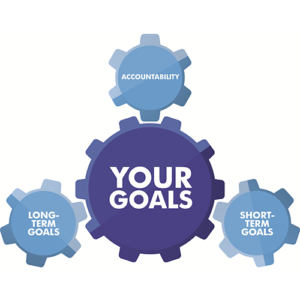 These are things you wish to accomplish in the next few days or in the next few months. You might be surprised how quickly we can help you polish your resume, establish your reputation as an expert, prepare for an interview, or take your job to the next level.
These are aspirations or a larger vision that can take years and require time. Starting a business may be your goal but it will take time to raise money, learn the right skills and find the right partners. We help you lay out your plan and work through it.
Often times the only thing holding someone back is having an accountability partner – someone to keep you on track and encourage you to meet your goals.
We regularly help clients with goals such as:
Negotiate a high salary, compensation or benefits
Update resume
Prepare for an interview
Get promoted
Develop a new skill set
Change roles
Prepare for an annual review and performance evaluation
Craft a new job plan
Improve workplace communications
Formulate a success strategy
Increase network size and quality
Contact us today and let's design the career you want and deserve.