Career happiness and career success starts with knowing yourself and, thereby, looking at career choices and opportunities with clarity and confidence. During Exploration we help you find out more about you and what's important to you in your life and career.
By asking questions, taking assessments and using coaching & counseling techniques we help you look inward, specifically at your interests, skills, values, personality, and behavior and how they relate to your career. Many of our clients are surprised by what they find out and answer big questions such as:
Are you unhappy in your job and you can't figure out why?
Why do you feel your job doesn't align with who you are?
You used to love your job but not anymore. What changed?
How did I get to this point in my career? Is this what I was meant to do?
Many of us want something more from our career. We have an idea of what it is but need to fully understand it and know how to make the right changes. The YOU gear has 5 gears powering it. Once you understand yourself in all 5 categories, YOU will be in harmony – your gears will turn and you'll see your career in ways you never imagined.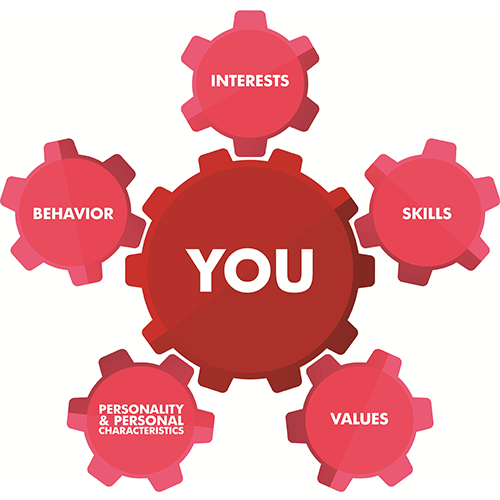 Tasks and challenges you enjoy in both your career and in your personal life.
The technical competencies and soft skills that come into play in your career.
Beliefs that you are passionate about and build your life according to.
Your style, mannerisms and the way you interact with others at home and work.
How you spend your time and the choices you make, day-in and day-out.
Contact us today and let's explore what makes you tick and how your career needs to align with that.