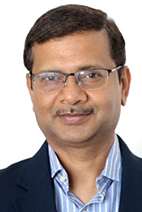 Vishy Parameswaran
Vishy believes that generative conversations are the cornerstone to transformation and growth. As a coach, his intent is to engage in authentic and honest human encounters that enable others to challenge their own limitations, beliefs and mindsets to be the best they can be.
Viswanath (Vishy) is the President and CEO of The Institute of Transformational Coaching LLC, an organization focused on building transformative, eco-systemic leadership. He is an experienced Executive Coach and Leadership Development professional with over 23 years of organizational experience across a diverse set of industries including IT, FMCG, Retail, Chemical, Power and Manufacturing.
As a credentialed Professional Certified Coach (PCC), Vishy has worked with senior leaders across the globe, spanning Asia, Middle East and the US enabling them to lead successfully in times of increasing complexity and uncertainty. Vishy has also worked with several Fortune 500 organizations facilitating senior leadership retreats focused on strategy, culture building and synergy. Vishy is part of the Forbes Coaches council and is a regular contributor to Forbes.
Worked with CEOs, CXOs and senior leaders across the globe including Middle East, Africa, Europe and US
Over 23 years of experience including leading the Human Resources function, Leadership facilitation and development, Coaching and Family Business Advisory
He also facilitates workshops on Transformational Coaching, Influencing without Authority, Leading across cultures and Self Insights for Leaders.
He is also a Hogan certified coach. His professional certifications include the of Myer Briggs Type Indicator (MBTI), The Leadership Circle (TLC) and he is also the co-architect of the Transformative Alignment Mapper (TAM), a tool to identify, align and unleash the transformative potential of individuals, teams and organizations
Some of the organizations he has worked with include McKinsey, Barclays Bank, Adobe, Deloitte, Shell, Texas Instruments and Philips Research, Bath Consulting,Thought Works, Tata Power, VeriSign, Monsanto, SAP, ARM, Cisco
Story
Three specific insights converged over the course of Vishy Parameswaran's career that moved him definitely toward a career in coaching. The first was an understanding that human growth and unfolding requires a space for reflection, insight and the real role of a coach is in holding this space which is full of possibility. The second realization was the deep impact that leaders make on the world and people around them – an insight which moved him toward working with senior leaders who could shape the present and the future. The final realization was about his own purpose and destiny which clearly was toward service to humanity. Simply put, coaching was at the intersection, leading him to take it on as a profession.
The Real Voyage of Discovery
Developing leaders was central to Vishy's corporate career as the Head of Human Resources. During this time, he also experienced how coaching can be one of the most powerful levers toward trans-formative change. As an internal coach, he saw the tremendous difference coaching conversations made in the lives of leaders
Schedule Vishy
Book a session or an initial consultant with me today. Looking forward to meeting you!
Expertise
Global Cross Cultural Leadership
Developmental & Behavioral Coaching
and those around them. In the process, he also discovered his own sense of joy and fulfillment in enabling this transformation which aligns deeply with his life's purpose – serving others. His deepest joy comes from enabling others to be the best they can be. Coaching serves as an optimal way to transform his life experiences, insights and learning to benefit others.
Vishy's Coaching Specialty
Helping clients through critical career and life transitions
Deepening a client's leadership awareness and enabling deep mindset shifts
Coaching for global leadership – leading across cultures
Integrating all aspects of being human – mind, body and spirit
Vishy's Coaching Philosphy
Generative conversations are the cornerstone to change and transformation. They shape our life, our relationships and the way we engage with the world. As an executive coach, Vishy's role is to engage in authentic, open and challenging conversations with leaders. His expertise lies in holding a mirror to them, helping them navigate through deep psychological transitions and shining a light on their blind spots. It is his rare privilege to partner with leaders in their effort to challenge their mindsets, reframe their beliefs and transform their lives and those around them.
Vishy's Ideal Client
A senior leader/executive in a corporate or non-profit organization
An entrepreneur
Why Coaching is Vishy's True Passion
Coaching in it's true essence enables the unfolding of a human being to his or her truest potential. Vishy believes his life's purpose is to serve and enable these transformative shifts for leaders so that they can have an ever-increasing positive impact on the people around them. He has also discovered over the years that his life experiences and insights provide a platform for clients to further their own personal and professional growth.
Certifications/Credentials/Specialized Training
Professional Certified Coach (PCC)
International Coach Federation
Forbes Coaches Council
Hogan Certified Coach
MBTI – Type I and II
The Leadership Circle
Co-Architect of the Transformative Alignment Mapper (TAM)
Let Wolfgang Career Coaching help you move forward in your career!
Contact us today if you'd like to work with Vishy.
We work nationwide and draw quite a few clients from Texas cities including Dallas, Houston, San Antonio and Fort Worth.