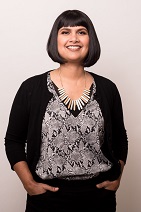 Sharanya Rao
Sharanya loves learning about what makes people tick. She is committed to partnering with her clients on their journey of self-discovery, and is fully present with empathy and support. Using the Co-Active Coaching model, mindfulness techniques and creativity, she provides a nurturing space for clients to look deeply within themselves, asks the hard questions, and holds them accountable to their goals.
Sharanya Rao is a life coach and dispute resolution professional who is committed to bringing positive, sustaining transformation in individuals and non-profit organizations through Co-Active coaching, Mindfulness and cultural awareness. Prior to coaching, Sharanya was a litigation lawyer in Singapore and she has a Masters of Law in Dispute Resolution. During her Masters Program, Sharanya began her journey on Mindfulness, doing coursework on the subject and becoming Mindfulness meditator. She also authored a paper on "The Cultural Vacuum in Online Dispute Resolution" which was one of the pioneer research papers on the impact of culture on online communication, and presented it at the Asia-Pacific Mediation Forum and the United Nations Online Dispute Resolution Forum. She also subsequently worked as a manager in the Legal Division at the Texas State Board of Pharmacy. Sharanya is certified with the International Coach Federation and completed the Co-Active Coach Training Program.
Bachelor of Laws (LL.B), Master of Laws (LL.M)(Dispute Resolution)
A dispute resolution professional with a background in law, alternative dispute resolution, mindfulness, cultural awareness, non-profit work and theater.
Experienced in facilitating leadership training workshops, self-discovery and mindfulness.
Accredited with the International Coaching Federation
Certified Co-Active Coach
Teachers' Diploma in Speech and Drama (Trinity College London)
Writer, Director and Artistic Director at Leela – An Indian Community Theatre
Story
Coaching is Sharanya Rao's passion, purpose and calling. Her diverse background forms a tapestry of skills which serve her clients in unique ways. As a former lawyer, she brings skills in critical thinking, analysis and pragmatism to coaching. Having served in non-profit organizations for over 20 years, in various capacities from volunteer to Board member, she deeply cares for people in her community and pursues a service-oriented approach to work. As a creative artist, she kindles her clients' inner flame of creativity and imagination, and uses creative techniques for problem-solving. After living in 5 countries, she has cultural awareness and offers a cultural lens to her clients' perspectives.
While Sharanya's dream has always been to pursue international conflict resolution, she struggled in her youth to find the right career path. Her search lead to her doing a lot of personality tests, strengths assessments and internships. She pursued a lucrative legal career in litigation, but found herself dissatisfied and unfulfilled.
Schedule Sharanya
Book a session or an initial consultant with me today. Looking forward to meeting you!
Expertise
Career Exploration & Discovery
Coping with Life Transitions
Goal Setting & Accountability
A Journey Towards Mindfulness
Her desire to find a purposeful career led her to pursue a Masters of Law in Dispute Resolution, where she was introduced to Mindfulness, and began her contemplative practice in 2003. Sharanya found application of Mindfulness techniques beyond the meditation room, and developed mindfulness-based trainings for youth in her community. She harnessed her creativity and mindfulness practice to develop theater projects on self-empowerment.
Leaving the Legal Industry and Finding Fulfillment
After her Masters' program, she left the private sector for government service as a Legal Program Specialist at the Texas State Board of Pharmacy. She managed a team of 7 Legal Assistants, and conducted training, presentations, case management and recruitment. She began to realize that she wanted to inspire and empower people rather than manage them. She asked herself, "How can my work be more purposeful and in alignment with my values?"
Outer to Inner Conflict
Sharanya finally turned her attention to what deeply resonated with her: connecting, helping, mentoring and empowering people through creativity and mindfulness. As she became more attuned to who she really was, clarity grew and drew her to coaching. She realized that international conflict resolution for her meant helping people around the world resolve inner conflict. This is what she had been looking for all along. Now, as a coach, Sharanya draws from her training and variety of experiences, to coach people on career and life transitions, both of which she personally experienced and found a fulfilling resolution.
A Global Citizen
Having lived and worked in 5 different countries, Sharanya is uniquely poised to bring cultural awareness to coaching and training. Additionally, she has about 20 years of non-profit working experience in Singapore, India and the United States, serving in different capacities – as a volunteer, youth leader, program coordinator, executive member, facilitator and trainer. She is also the Artistic Director of the non-profit theatre group, Leela – An Indian Community Theatre, a project of the Austin Creative Alliance.
Testimonials
Though I have never seemed to suffer from a lack of enthusiasm, I was frustrated because I felt I was stuck and lacked a life passion. Thanks to Sharanya, in just a few sessions, I now have a vision and a bright new path! She is a unique and truly gifted life coach. She has a miraculous way of distilling my words and ideas and honing in on my true desires.  Her words of wisdom gave me just the right push at the right moment to make a difficult transition in my career. She also has helped me reinvent several aspects of myself. And I can't recommend her enough.

Thank you Sharanya for Kindling and lighting the way for me!

A.S.

"Working with Sharanya has been incredible!  I am in the process of founding a yoga retreat, and was overwhelmed by the mere idea of it, not to mention the money, responsibility, etc. . .Sharanya and I have worked in great detail through my motivations, fears, and aspirations for my project, and now I feel confident and happy about the challenges before me.  She understands the balance between practical career decisions, psychology, and the spiritual – I couldn't ask for a better coach!!!

T.M., Austin, TX

Sharanya is a natural coach.  Her loving, comforting, and confident personality puts anyone at ease.  She is a great listener and her training in law has given her the knack to get to the crux of the matter.  She knows how to make others think efficiently and helps them help themselves.

M.S.,

Genuine, warm and insightful barely begin to describe Sharanya as a Life Coach. My first session started being an open-ended conversation but soon Sharanya was able to guide the discussion to a place where we identified areas in my life that we wanted to work on. She asked the right questions to address every fleeting thought of mine, even the ones that I was initially uncomfortable to discuss. Her thoughtful questions and carefully guided discussion helped us get to a point where we had a clear plan of action for the next few sessions. One of the most revealing and valuable exercises we worked on in the next session was diving deep into values and how they shape actions and decisions in my life. Sharanya not only has amazing instincts as a Life Coach but she is compassionate and very generous with her time. I am a very happy client and whole-heartedly recommend Sharanya and Kindle Life Coaching.

N.J., California
Let Wolfgang Career Coaching help you move forward in your career!
Contact us today if you'd like to work with Sharanya.
We work nationwide and draw quite a few clients from Texas cities including Dallas, Houston, San Antonio and Fort Worth.