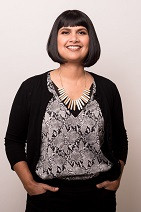 Coaching Since: 2013
Sharanya Rao
Career & Leadership Coach
Austin, TX
Expertise:
Confident Communication
Executive Coaching
Intercultural Understanding
Leadership Assessments
Leadership Development
Mindfulness
Brand Development
Career Assessment
Career Coaching
Career Counseling
Career Development/Transition
Career Exploration, Discovery & Decision-making
Communication/EQ Skills
Confidence and Self-esteem
Confident Communication
Mindfulness
Overcoming Fears
Appointment Types:
In Person
Online via Zoom
Credentials:
Master of Laws, Dispute Resolution, University of Missouri-Columbia
Bachelor of Laws, National University of Singapore
Professional Certified Coach, International Coaching Federation
Certified Co-Active Coach, Coaches Training Institute
Certified Consultant, Leadership Circle Profile
Methodologies and Tools used:
Co-active and mindfulness strategies employed to achieve clarity of purpose and direction in career design and leadership effectiveness
Career & Leadership Assessments
Leadership Circle Profile 360-Assessment employed to create leadership development plans
Ideal Clients:
Career Changers
Community Change Makers
Executives
Individual Contributors
Mid Level Managers
Mid-Career Professionals
Sharanya's Story
Sharanya Rao is a creative powerhouse who awakens clarity and transformation in her clients. As a professional career and leadership coach, she is committed to bringing positive, sustaining transformation in individuals and organizations through Co-Active coaching, Mindfulness and cultural awareness. Sharanya loves learning about what makes people tick. She is committed to partnering with her clients on their journey of self-discovery, and is fully present with empathy and support. Using the Co-Active Coaching model, mindfulness techniques and creativity, she provides a nurturing space for clients to look deeply within themselves, asks the hard questions, and holds them accountable to their professional goals.
Coaching is Sharanya Rao's passion, purpose and calling. Her diverse background forms a tapestry of skills which serve her clients in unique ways. As a former lawyer, she brings skills in critical thinking, analysis and pragmatism to coaching. Having served in non-profit organizations for over 20 years, in various capacities from volunteer to Board member, she deeply cares for people in her community and pursues a service-oriented approach to work. As a creative artist, she kindles her clients' inner flame of creativity and imagination, and uses creative techniques for problem-solving. After living in 5 countries, she has cultural awareness and offers a cultural lens to her clients' perspectives.

Sharanya draws from her training and experiences, to coach people on career transitions and leadership effectiveness, both of which she personally experienced and found powerful strategies to navigate. Prior to coaching, Sharanya was a litigation lawyer in Singapore and she has a Masters of Law in Dispute Resolution. Sharanya is a certified coach with the International Coach Federation, the Coaches Training Institute and the Leadership Circle Profile.

What clients are saying about Sharanya...
Sharanya was terrific. She pushed and guided me to come up with a life purpose statement. (Which was genuinely hard for me to do since I'm not one to commit easily.) Once I did, everything thing else started making since. Not only did I walk away knowing what I want to do career-wise, I also walked away knowing myself better. Thanks, Sharanya!
-- Neysha B.
Sharanya Rao is outstanding! Sharanya helped me refine my interview skills. She increased my confidence and my preparedness for the seemingly infinite variety of questions that can be asked during an interview. With Sharanya's assistance, I was able to present myself in the most effective manner during my job interview.
-- Mike M.
Sharanya Rao is an excellent coach! I am so thankful that she coached me. Sharanya listened patiently to each and everything I had to say. Being a special needs mom, stress is the biggest factor that plays role in my day to day life, and I am so impressed with the work that Sharanya put in to help me. My life has meaning now, I even have a goal to work towards which didn't exist before meeting Sharanya. She has completely changed my life, I would recommend anyone skeptical to try life/career coaching to please consider Sharanya. You cannot get better than her. She will go above and beyond to help you. She has life examples to give which are very helpful. She also does phone sessions or video sessions if you cannot go to her, which made my coaching so much more easier. I will forever be grateful to you, Sharanya. Keep changing lives.
-- Swati M.
Sharanya is a natural coach. Her loving, comforting, and confident personality puts anyone at ease. She is a great listener and her training in law has given her the knack to get to the crux of the matter. She knows how to make others think efficiently and helps them help themselves.
-- M.S.
Working with Sharanya has been incredible! I am in the process of founding a yoga retreat, and was overwhelmed by the mere idea of it, not to mention the money, responsibility, etc. . .Sharanya and I have worked in great detail through my motivations, fears, and aspirations for my project, and now I feel confident and happy about the challenges before me. She understands the balance between practical career decisions, psychology, and the spiritual – I couldn't ask for a better coach!!!
-- T.M.
Let Wolfgang Career Coaching help you move forward in your career!
Contact us today if you'd like to work with Sharanya.
We work nationwide and draw quite a few clients from Texas cities including Dallas, Houston, San Antonio and Fort Worth.