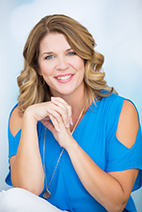 Michelle Poole
Michelle Poole worked for over 15 years for a high tech company in Human Resources. Despite her success, her priorities changed and she found that her values weren't aligned with her career.
She left her job to be with her family more and to find answers. She and her family felt she should do some personal and career exploration. Thus, Michelle began a personal journey to determine "what's right?"
Career Exploration
Michelle jokingly refers to her time as a "gap year" when Michelle spent time networking and exploring career opportunities. A career coach helped her understand which skills and values fit the career and lifestyle she wanted. That time enabled her to renew her spirit and determine her next career move.
Career Discovery
Michelle realized that her passion is helping others find their motivation – personal and professional. Michelle now understands that her favorite part of her HR career was working with employees and helping them achieve career success. It was this breakthrough that compelled her to get certified as a Professional Career Manager (PCM) and focus on career counseling.
Let Wolfgang Career Coaching help you move forward in your career!
Contact us today if you'd like to work with Michelle.
We work nationwide and draw quite a few clients from Texas cities including Dallas, Houston, San Antonio and Fort Worth.