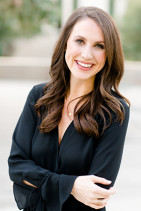 Coaching Since: 2014
Krista Talley
Professional Career Coach
Austin, TX
Expertise:
Business Soft Skills
Career Assessment
Career Change Planning
Career Coaching
Career Counseling
Career Development/Transition
Communication/EQ Skills
Confidence and Self-esteem
Confident Communication
Developmental & Behavioral Coaching
Goal Setting & Accountability
Life Transition Coaching
Appointment Types:
In Person
Phone
Online via Zoom
Credentials:
National Certified Counselor
Master of Education in Counseling Psychology
Master of Science in Business
Methodologies and Tools used:
Solution-Focused
Strengths-Based Coaching
Career and Leadership Assessments

Mindfulness and Stress Reduction
Ideal Clients:
Career Changers
Mid-Career Professionals
Krista's Story
Krista Talley is a National Certified Counselor who holds a Masters in Counseling Psychology from the University of Texas at Austin. Prior to becoming a Professional Counselor, Krista worked in Public Accounting. After working long hours in an industry that was unfulfilling, Krista set out to help others like herself who felt stuck and often hopeless in their career. Each client brings a unique perspective, skill set, and range of experiences to the table. She enjoys getting to know each client individually and discovering what "makes them tick."
Krista leverages her training in solution-focused counseling and assessment delivery during her sessions. Krista also utilizes mindfulness techniques to aide in stress reduction. Krista provides a strengths-based model focused on goal-setting and accountability.
Krista is passionate about helping others find happiness and success in their personal and professional life. The average person spends a large portion of their life at work; therefore she believes finding meaning in one's career is of the utmost importance. Coaching allows her to help guide clients into finding meaning in their work. Her goal is to help clients overcome obstacles in order to achieve their future goals, personally and professionally.
What clients are saying about Krista...
"I worked with Krista Talley as my coach and cannot recommend her enough. She was incredibly helpful and offered great guidance as I navigated making a both a career change and geographical change. Krista was flexible with scheduling, always provided helpful guidance, and was very quick to respond to questions outside of our sessions. Over the four sessions that I had with Krista, I developed the skills and confidence to successfully transition career paths and move cities. I would 100% recommend both Krista and Wolfgang Career Coaching! "
-- Lindsey G
Let Wolfgang Career Coaching help you move forward in your career!
Contact us today if you'd like to work with Krista.
We work nationwide and draw quite a few clients from Texas cities including Dallas, Houston, San Antonio and Fort Worth.