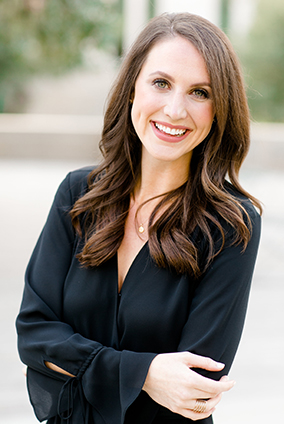 Krista Talley
Krista understands the importance of having a career that brings meaning and value to one's life. There are many obstacles that can prevent an individual from pursuing change and Krista guides clients to locate and overcome these challenges. Krista enjoys helping clients build confidence in their capabilities and enjoys watching clients discover themselves through the process.

Krista Talley holds a Master's degree in Educational Psychology from the University of Texas at Austin as well as Master's and Bachelor's degrees in Business from Virginia Tech. Krista is a National Certified Counselor and has a variety of experience in various settings. Krista has served as a counselor, coach and consultant and prior to getting her degree at UT Austin, worked for an international accounting firm in Washington, D.C.
Over 5 years of professional experience including individual and group coaching, organizational consulting, assessment delivery, and research.
Worked as a career counselor at Texas State University as well as college coach for private company in Austin.
Self-directed leader and project manager with the ability to form strong rapport with clients from all walks of life.
Experienced with college students, mid-level professionals, and corporate executives.
Disability Advocate and Gender & Sexuality Ally through the University of Texas at Austin.
Experienced in: Career coaching, individual and group counseling, employee development and organizational change, resume writing and interview prep, and career and personality assessments.
Story
After working long hours in a career she did not enjoy and living in a city close to where she grew up, Krista Talley knew there was more to life. After setting out to find a more meaningful personal and professional life, she found herself in Austin. Changing paths personally and professionally can be overwhelming but she believes that success and happiness come as soon as one chooses to be vulnerable.
Vulnerability Leads to Success
Having had personal experience in working long hours in an industry she did not enjoy, Krista set out to help others like herself who felt stuck and often hopeless in their career. Coaching allows her to help clients find the "light at the end of the tunnel" and help them understand vulnerability is key to success.
Krista's Coaching Specialty
Krista has the ability to form strong rapport with clients. Each client brings a unique perspective, skill set, and range of experiences to the table. She enjoys getting to know each client individually and discovering what "makes them tick."
Schedule Krista
Book a session or an initial consultant with me today. Looking forward to meeting you!
Expertise
Career Exploration & Discovery
Resume Writing and Interview Prep
Goal Setting & Accountability
Krista's Ideal Client
Example 1: Krista's ideal client is feeling stuck in their career or job search. They are looking for someone to guide them out of the "rut", to hold them accountable, and to encourage them to be brave.
Example 2: Krista's ideal client is searching for a graduate program or graduating college. They need the extra push on how to apply or figure out "what is next" in life. They need a variety of help including resume writing, interview prep, and someone to hold them accountable.
Certifications/Credentials/Specialized Training
National Certified Counselor
Master in Educational Psychology
Training in CBT and Positive Psychology
Disability Advocate and Gender & Sexuality Ally
Member of American Psychological Association and Society of Consulting Psychology
Experience in individual, group and organizational coaching
Why Coaching is Krista's True Passion
Krista is passionate about helping others find happiness and success in their personal and professional life. The average person spends the majority of their time at work, therefore she believes finding meaning in one's career is of the utmost importance. Coaching allows her to help guide clients into finding meaning in their work. Her goal is to help clients overcome obstacles in order to achieve their future goals, personally and professionally.
Let Wolfgang Career Coaching help you move forward in your career!
Contact us today if you'd like to work with Krista.
We work nationwide and draw quite a few clients from Texas cities including Dallas, Houston, San Antonio and Fort Worth.