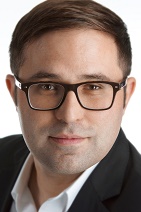 James Beeman
James believes that everyone is worthy of a meaningful and significant career and life and understands that when clients play to their strengths and manage their weaknesses, tremendous results are achieved with greater ease. James' approach with clients incorporates research from positive psychology, strengths-based approaches to personal development, and advanced neuroscience methodologies that enable clients to get the results they really want in their career and life.
James Beeman is a Licensed NeuroPositive® Coach with the Applied Neuroscience Institute (ANI) under the supervision of Dr. Donald Johnson the Associate Director of ANI. James holds a Bachelor of Arts in Music from Thomas Edison State University and a Master of Arts in Management and Leadership from Liberty University. He currently serves as President of the ICF – San Antonio and is an Advisory Board Member of the Career Thought Leaders Consortium. Additionally, he has 10+ years of training, leadership, advising, operations management, and client relationship experience. James empowers his clients to find meaning and significance in their life and career.
Works with coaches, mid-level professionals and corporate executives.
10+ years of experience in corporate training, leadership, advising, operations management, and client relationship experience.
Created and designed systems to deliver coaching and advising services to 2K+ undergraduate students with a 72+ NPS (Net Promoter Score) with a multimillion dollar budget.
Authored publications and training materials utilized in higher education, coach training schools, and in career coaching business.
Story
Several years ago James Beeman was working in San Antonio, Texas and was so stressed out from his job that he had a headache every single day from clenching his jaw and grinding his teeth. In fact, the stress of his job kept him up at all hours of the night and began to negatively impact his personal relationships like his new marriage.
He was tired, he was miserable, and he began to think that he was hopeless.
James got his personal wakeup call when he ended up in the ER thinking he was having a stroke or a heart attack, because he was taking every conflict at work to heart and because he thought that every problem at work was all his fault. That's what it took for him to change – to strike out in a new direction – a new career where he can help people who are miserable at work, find new life and joy.
By the way, James wasn't crazy, when he quit his job, they hired three people to replace him!
Schedule James
Book a session or an initial consultant with me today. Looking forward to meeting you!
Expertise
Career Management & Development
Career Transition Coaching
Strengths-based Career Strategies
Mentor coach for ICF – certified coaches
My Why
I love watching others play to their strengths, stomp out self-defeating mindsets, leverage their positive emotions, take hold of their personal power, and wield it in ways that benefit themselves and others. I believe that love, or the ability to meaningfully connect with others, starts by more fully connecting with your emotions, thoughts, and responses, and that by sharing this sort of love with the world, hate and fear can be diminished. I believe in spreading and sharing goodness.
My Ideal Client
My ideal client is a person who is ready to make a significant change in their life or career. They are aware that they have to change in order to make this transition happen and are okay with being vulnerable or feeling uncomfortable in the process. They're ready to go beyond simply being successful and achieving their goals, to becoming someone of significance who is ready to dream far outside of their own box and live a rich and meaningful life. They're fully committed to making the changes necessary to make this a reality for them and are open to the timing of how it all comes to be for them.
Certifications, Credentials & Specialized Training
Licensed NeuroPositive ® Coach with the Applied Neuroscience Institute
Certified Career Management Coach with The Academies
360 Reach Personal Branding Analyst
MBTI® Certified Practitioner
Certified Executive & Leadership Development Coach with The Academies
Professional Certified Coach with the International Coach Federation
Master of Arts in Management & Leadership
President of ICF – San Antonio
Advisory board member of Career Thought Leaders
Adjunct Coach Trainer with The Academies
Coach Trainer with the Center for Coaching Excellence
Let Wolfgang Career Coaching help you move forward in your career!
Contact us today if you'd like to work with James.
We work nationwide and draw quite a few clients from Texas cities including Dallas, Houston, San Antonio and Fort Worth.