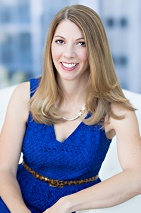 Amy Wolfgang
In 2001, Amy Wolfgang had a good job in the corporate world. She liked her co-workers, did a good job and earned a decent salary. Unfortunately, she wasn't fulfilled and inspired by her job and that made her unhappy. That's when Amy decided to find a career that made her happy & fulfilled.
Amy's Career Exploration
Amy began working with a career coach. She took a few career tests and researched a number of career paths. Thus, Amy was able to discover the aspects of a job that would make her happy. One of those aspects was helping other people directly.
Amy realized that she enjoyed training and resource development. She enjoyed helping others grow at the company and witnessing the positive impact she had on her co-workers. A short while later, Amy pursued career coaching since she could help others and utilize her years of experience in the corporate world.
Amy's Qualifications
Amy left her comfortable, corporate job to obtain her Masters degree in Educational Psychology from The University of Texas at Austin and Certification from the National Society of Career Management. After receiving her degree, Amy served as a career adviser and lecturer at one of the top business schools in the country, McCombs School of Business at The University of Texas. Amy is now CEO of her own career coaching and has the education, credentials and experience to make her an outstanding certified career management coach and professional career coach.
Let Wolfgang Career Coaching help you move forward in your career!
We work nationwide and draw quite a few clients from Texas cities including Dallas, Houston, San Antonio and Fort Worth.